While I had initially fantasized of cerulean blue sea waters, waterfalls and diving with whale sharks for my Philippines vacation I found myself drawn to this relatively undiscovered tear drop shaped island of Siargao (pronounced Shar-Gao.)  It was so mysterious. What did this remote island have to offer an explorer like me? The wild, untouched, unmentioned island's allure was too much for me, I booked my one-week trip.
We were flying from Bali to the Philippines which wasn't an ideal route, but we made it work with an overnight stopover in Manila. This city has a pretty horrible reputation for being unsafe so I was apprehensive about even leaving the airport. Our flight wasn't scheduled to arrive in Manila until after 3AM. Since our departing flight to Siargao from Manila wasn't until 12PM the next day we went ahead and found a decent hotel right by the airport called One Palm Tree Villas.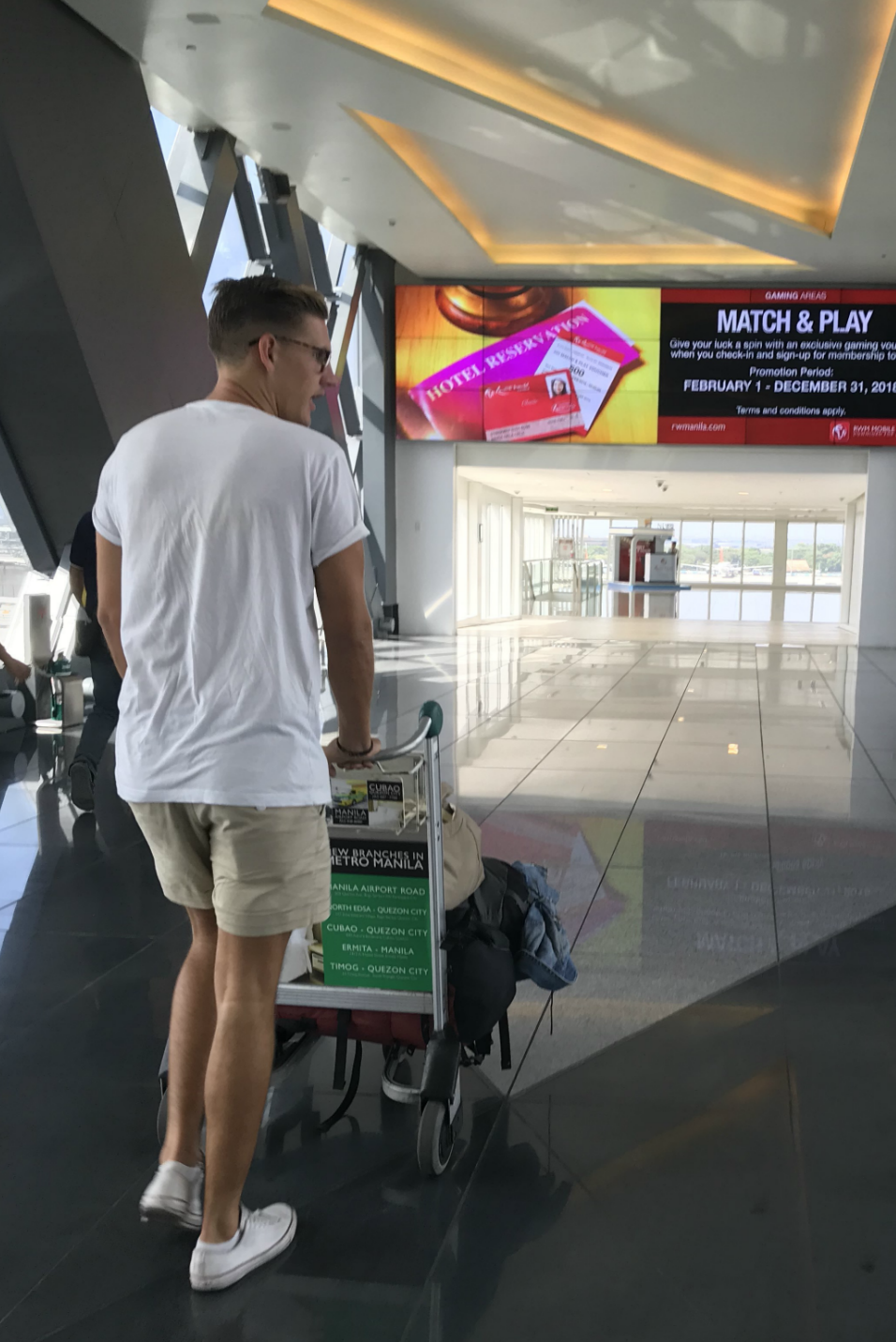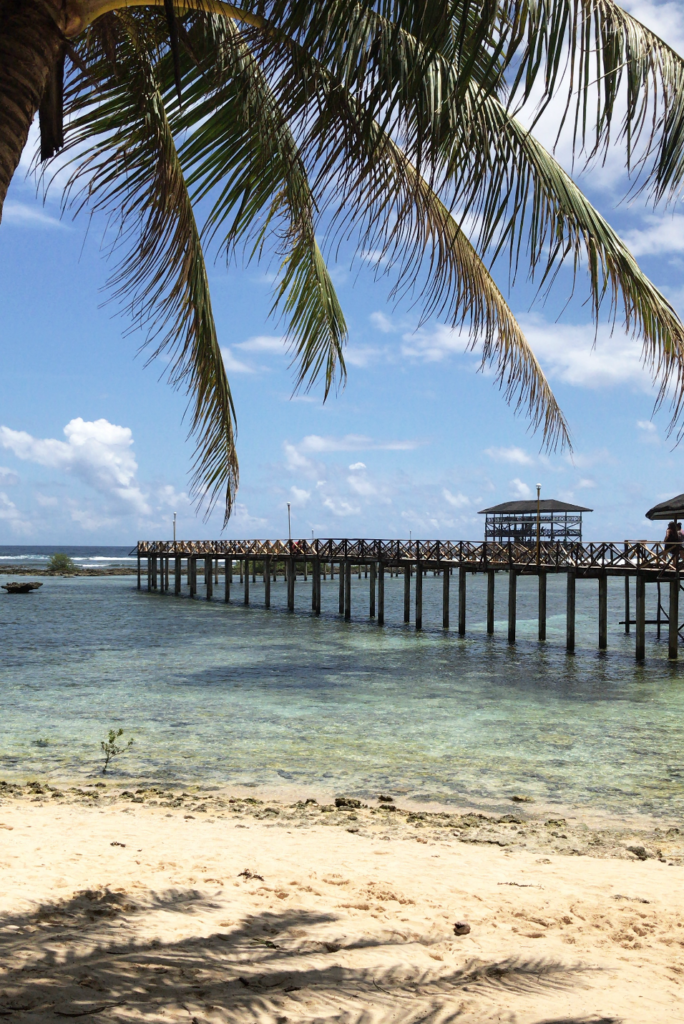 TIP:

Call or email your hotel to get directions, finding the covered walkway wasn't easy but it was worth it. The walkway brought us straight down to a nice little area on the other side with a few hotels and a church, we felt totally safe walking in this area.
The next morning we walked back to the airport to get a shuttle to our departing terminal. We had to wait about 20 minutes for the shuttle to arrive and another 10-20 minutes to reach our destination. Since all flights in the Philippines seem to be delayed this wasn't a big deal, we sat in the airport terminal for a couple hours.
TIP:
While at the airport be sure to get a SIM card. We purchased the SurfCard which didn't offer incredible service but it did the job. It really comes in handy when navigating the island and for times when the wifi at the hotel goes out, which is often.
Flying into Siargao was an incredible experience. The island's terrain was mountainous and covered with dense palm trees all surrounded by crystal blue water. When we landed we were the only plane in the airport. We walked right off the plane and were immediately handed our luggage. Outside there was a huge crowd of Filipino men offering taxi rides to General Luna for 300 pesos each person. They really cram people into these vans, forcing people to sit on the floor with their luggage on their lap.
TIP: If you can, I definitely suggest organizing a ride with your hotel ahead of time so someone is waiting for you at the airport upon arrival.
The ride from the airport to General Luna was so beautiful! This island is completely untouched and the style of living doesn't appear to have changed or modernized like ever.
Longtime Bali travelers are always reminiscing on what it was like there 30-40 years ago, how untouched and quiet it was and how much its changed since. I imagine this is what will become of Siargao. Today the island is covered in palm trees with very few restaurants and shops, the only area for tourists is General Luna and the WIFI is barely existent.
We traveled to Siargao with the intent on relaxing, surfing and making the most of a full-blown holiday so we opted for a nice AirBnB in General Luna (it was also the only property still available.) Since this island is starting to gain some publicity and there are still very few hotels I recommend booking far in advance. While we didn't stay at any of the below properties, we did spend time scoping each of them out for next time and eating at their restaurants.
The Philippines isn't known for its cuisine so my expectations were very low, but again, I was pleasantly surprised by the options in General Luna. There were some really beautiful restaurants with some incredible food. While you do end up paying more for nice Western restaurants, when you're on vacation it is so worth it!
Breakfast:
Lunch/Dinner:
Reef Burger: Vegan friendly for veggos like moi! But also true to its name in that they offer beef burgers as well.

Kitya's Place: Come for the food like the Banana Nutella Crepe with homemade blueberry Ice cream *drool* stay for the live music!

Buddha's: Most reviews you'll find online for this place will be in regard to their exceptional surf resort, but the food absolutely deserves a nod as well!

Harana: We had a lovely meal here and enjoyed our favorite local beer: General Luna (it has a little surfing monkey on it.) Keep an eye out for the legendary pug, he's often seen sitting on a throne keeping an eye on visitors.

L'Osteria: As you may have guessed, this is an Italian restaurant and the food is phenomenal! We got a bottle of wine, a woodfired pizza and a gnocchi to die for.

Miguel's Taqueria: The cheapest, most delicious fresh fish taco you'll ever eat from the most suspect looking hut on the side of the road.

Kermit's: This restaurant is always recognized by anyone who's ever heard of Siargao and it's always recommended by the locals. With good reason! The pizza is next level, the drinks are cheap, and the atmosphere is everything you'd want from a tropical island. We were regulars. Oh! And be sure to try the General Luna craft beer here.

Mama's Grill: I must confess… I didn't actually eat here. This is strictly for my carnivorous friends and came highly recommended by every local and expat we spoke to. Meals apparently cost just a few pesos.  

Kalinaw: Another hotel restaurant and a very fancy shmancy one at that. I went here for my birthday and WOW the food and wine were incredible but man did the wallet take a beating.

Warung: We weren't away from Bali for even a week and were already missing the cuisine. Luckily we found this lovely restaurant serving authentic Indonesian dishes like Nasi Campur.

Bravo Restaurant: This just may be my favorite restaurant experience in Siargao. It was one of the few places that was right on the water so we were able to enjoy our meal and watch the sunset simultaneously.

Viento Del Mar: Right next door to Bravo is a small, humble little beach side restaurant with outdoor dining and the best grilled fish I've ever experienced at an unbeatable price.  
Baked Goods:
Aventinos: In case you're in need of a big chocolate on chocolate cake while on holiday in Siargao… I recommend Aventinos. My boyfriend surprised me on my birthday with one of their decadent cakes and it was pretty amazing.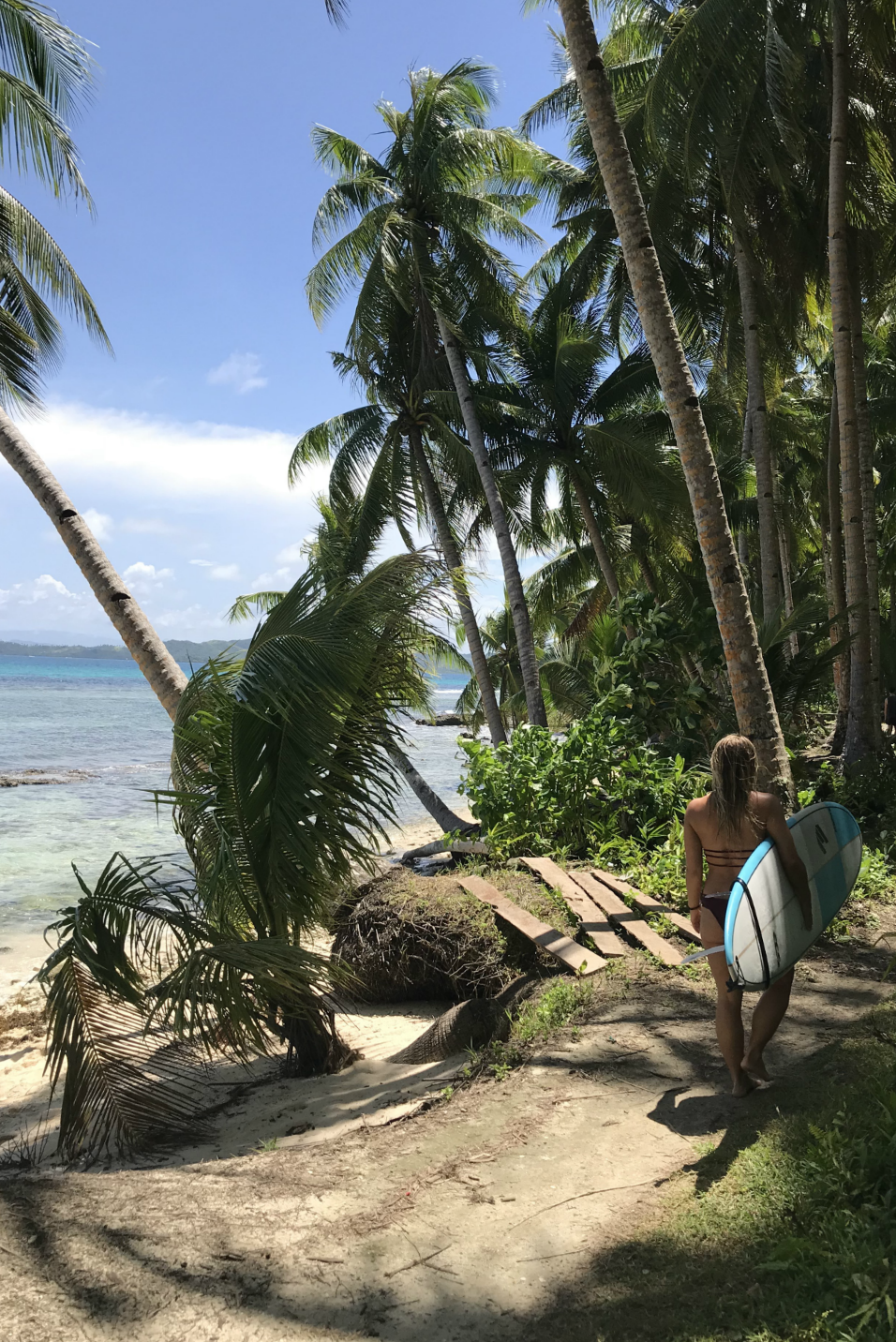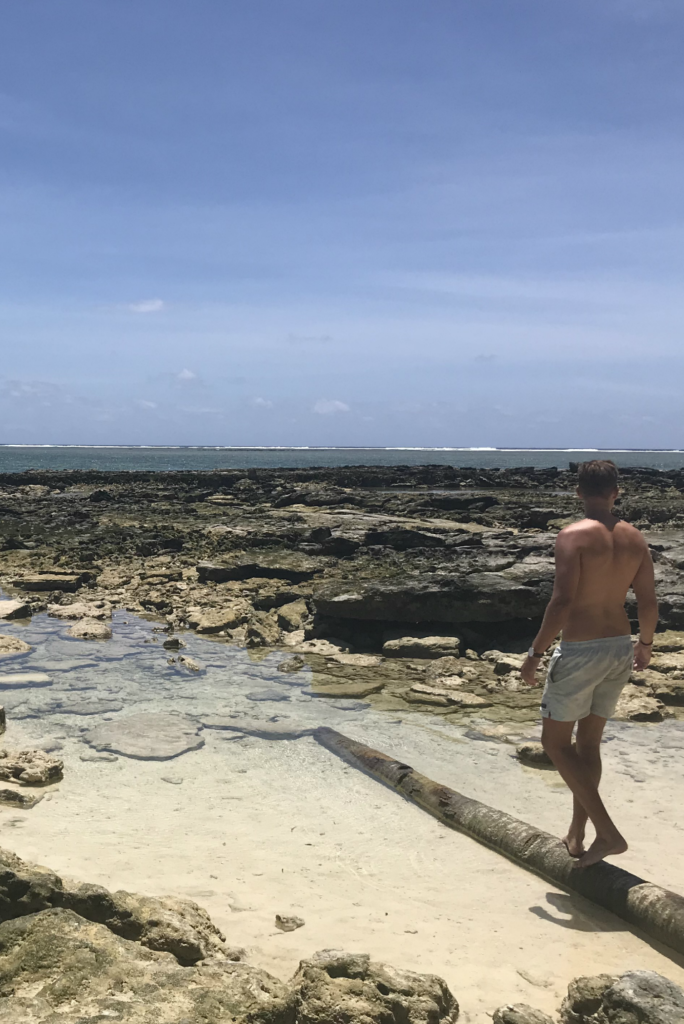 While Siargao doesn't have much of a reputation (yet), those that do know of the island likely know of it for of its famous surfing. This was the main reason we decided to make the trek but it was only one of the many activities we participated in and it wasn't even our favorite! This island has so much to offer and is ideal for adventure seekers.
There are so many naturally beautiful things to see on this island and while discovering them for yourself is half the fun, here are a few things to see and do to get you started:
Sugba Lagoon – The boat ride through the bay was a really unique experience and so wonderfully calm. While I found the actual area with the diving board underwhelming and touristy it was a great day and we enjoyed a picnic on a remote island with locals, played some volleyball, swam in the crystal blue water and found some massive conch shells on the beach's shore.
3 Islands Tour – An absolute must! My boyfriend gets sea sick so we avoided this boat tour to Guyam, Daku and Naked Island until our very last day. I'm so glad we did it! The water was calm, the sun was out and neither of us experienced any kind of motion sickness all day. We met some wonderful friends, enjoyed lunch on the beach and plenty of rum and cokes. You can organize the trip with your hotel or a local but Fat Lips surf shop is always a consistent bet and includes lunch and drinks.
Pacifico Beach – This location on the map may seem intimidating at first when planning your day trip but it's so worth it! The drive was beautiful as was the little surf spot we stopped at to watch the waves. No one was daring enough to dive in and surf the waves the day we were there but from what we've heard it tends to attract some serious talent.
Magupunko – This is about a 45 minute ride from General Luna and an absolutely beautiful ride at that. Make sure to get here on time to ensure you see the beauty. Check the tide schedule and make sure to go at low tide when the pools are revealed.
Algeria Beach – Take a motorbike up the coast 1.5 hours as a day trip and visit this white sand beach away from all the crowds. It may be possible to fit the Magupunko, Tak Tak Falls, Pacifico Beach and Algeria Beach into one day trip if you're up for a full one.
Yoga @ Lotus Shores
Massage @ Emerald House
Movie Theater in the center of town for open air cinema
Surf Giuan – This was by far the most memorable and incredible experiences of my entire life. I still can't believe it was real. I knew we were onto something special when the directions were vague and landmarks like coconut trees were used as directors. The effort to find this remote location was half the fun so I'm not going to give it away here. I suggest renting a surf board, strapping it onto your motorbike and asking a local for directions. When you see a man sitting in a chair on the side of the road in the middle of a coconut grove you'll know you've found it. Everyone always says to be cafeful with your belongings in the Philippines but if you pay the man at the top of the trail he'll watch your bike. Once you've wound through the coconut forest's foot path you'll find yourself at the most incredibly beautiful beach on this planet. Take it in. You may be the only one there. Then hop on your board and enjoy the beginner break in all its glory.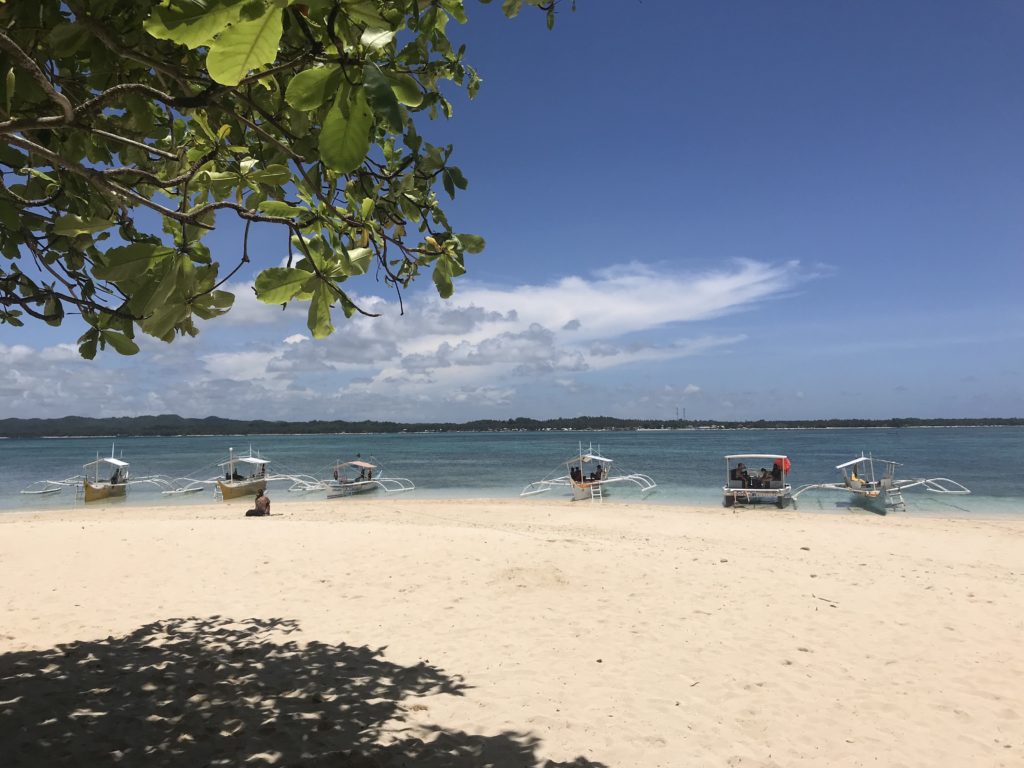 We learned a lot of lessons while in the Philippines, as with everywhere we go. One in particular was a real game changer and one I am thrilled to share with the world! It's also the only way to reliably take cash out in Siargao which is an absolute must have as there are very few places that take credit card.
So how you do it is through a money transfer app called World Remit that allows you to take cash out abroad quickly, safely and securely with only a small flat rate fee.
Here's how it works:
Download the app
Set up your location, bank and credit card details in your profile
Choose a location nearby
Send money to yourself in the local currency from your credit card or debit card
Get a confirmation code via email and text message
Bring your passport and confirmation message to the location you sent the money to
Fill out a withdrawal slip
Pick up your cash!
This whole process took us about 15-30 minutes. It's easy, reliable and so cheap! Let me explain why this app is so awesome:
I took a large sum of money out to spend for while in Siargao. While most ATMs charge a large fee to take money out and most banks charge a percentage of the withdrawal on foreign transactions World Remit only charges one small flat fee. So whether you take out $50 or $3,000 you'll only ever pay $5USD!
Because I was able to use my travel rewards credit card to send the cash to myself I still received points for the cash withdrawal.
The exchange rate was right on par with the Google exchange rate which is typically fairly generous.
Transactions are made, and cash is picked up at a bank so you don't need to worry about sketchy ATMs scanning your card and stealing your money or eating your card completely.

WorldRemit

also has an awesome referral system. When you make a transaction you'll receive a link to pass along to friends. When someone uses your link and sends at least $100USD you'll both get $20USD!
Disclaimer: Some of the links on this page are affiliate links, meaning at no additional cost to you, I will make a commission if you click through and make a purchase. All opinions are my own & 100% genuine based on my experience.
Like this article? Pin it!