Hello! Looking for travel tips? I have 18…
It happens at the most unexpected times, while stuck in traffic on your commute home from work, in the middle of a meeting, lying awake at night restlessly swiping through photos on Instagram of bikini-clad friends in tropical locations… WANDERLUST. That sudden and uncontrollable urge to escape, book a flight and go wild for a while. 
When that urge does strike… embrace it! Don't think, don't wait until tomorrow, give in to the temptation, book the flight and do it now. You can figure the details out later.
Once the easy part of settling on a destination is done, what do you do next?
If you're reading this you're probably a bit of a planner. Personally, I find the details and planning fun – it's when looking at Pinterest and Insta photos become research rather than just a fantasy.
Planning your trip ahead of time allows you to save money and time and have a more fun and relaxing experience and truly live in the moment when you're actually on vacation. (Planning ahead is especially helpful when it comes to Airbnb, you'll get the best place in the best location at the best price when you book several months in advance.)
Here are my recommendations for researching the best places to stay, eat and what to do to make every minute of your trip count!
18 travel tips for researching a new city:
Accommodation

1. Where to Stay – Find the Intercontinental & Stay Close By
When trying to figure out where to stay in a city I look to certain hotels I know are going to be in a good location like the Intercontinental. These chains do a ton of research and are typically central, rarely in a business district and in safe neighborhoods. I find that the more upscale hotels like the Intercontinental are also in chic areas rather than "touristy" areas.
TIP: The light brown areas of Google Maps are usually smaller neighborhoods/quarters/districts and tend to be nice areas to stay in.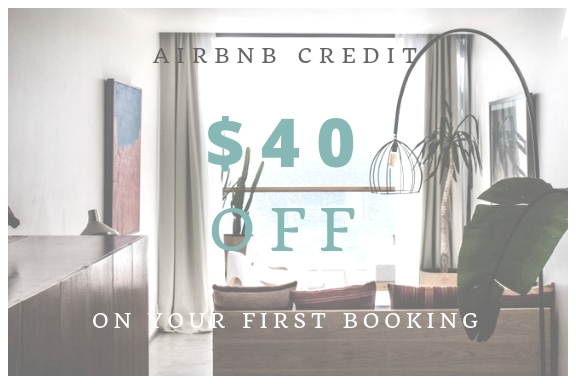 2. Save Money on Accommodation – Don't Pay Full Price on AirBnB
I personally like staying in Airbnbs (they're especially great for vegans) but for me they're just more unique and the experience feels more local. My tip for staying in Airbnbs is to ask for a better price. I don't feel guilty doing this because a lot of homeowners jack the prices up on Airbnb which can actually be harmful to the local economy. Hotels are affected as well as locals because landlords can charge $100 a night for example which is obviously more than someone looking to rent can afford.  This has become a really big problem in Lisbon specifically.
Here is the template I use when I contact Airbnb hosts asking for a better rate: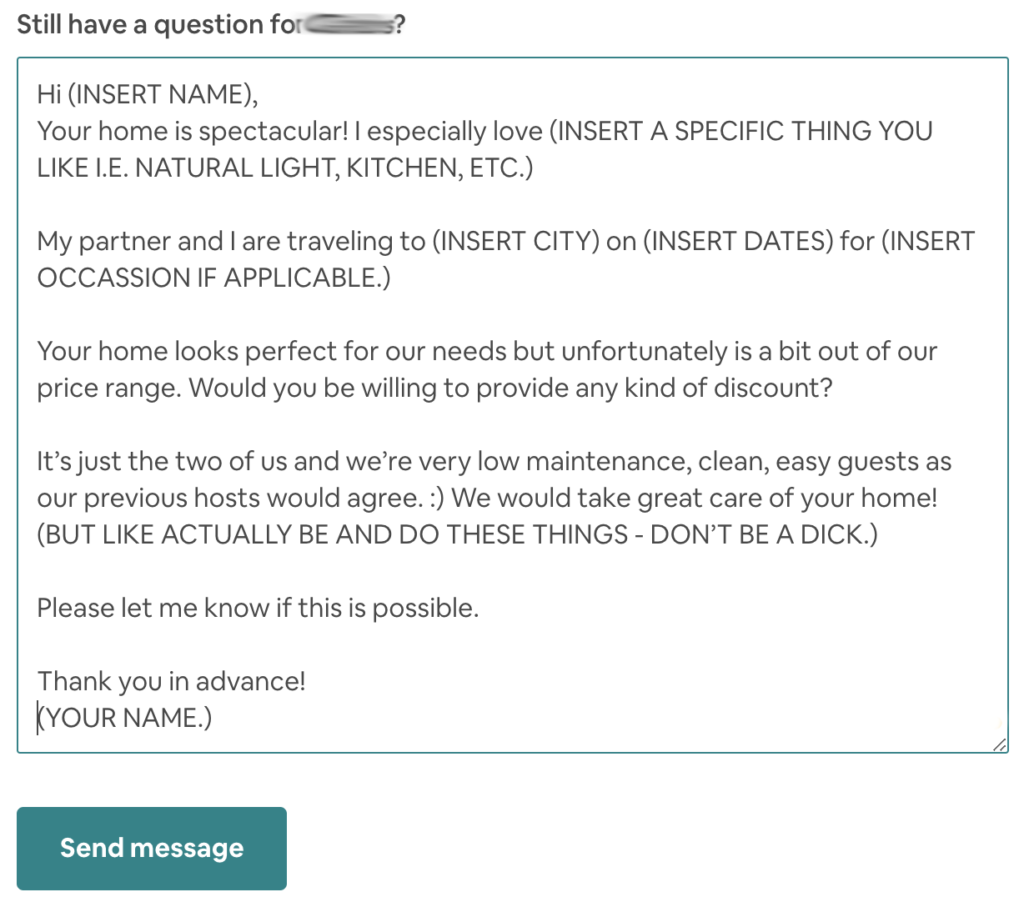 3. Solo Trip Planning – Google Street View
If you're going to a new city solo, my biggest piece of advice is to plan ahead. I also suggest staying in hostels. I use Hostel World and read all the reviews but I also look up the location on Google Map and do a quick street view to see if it looks safe. Hostels can sometimes be located in sketchy areas since they're typically for budget travelers. If I'm staying somewhere solo I like knowing that I can come and go without getting mugged or stabbed in the street outside.
Planning Things to Do: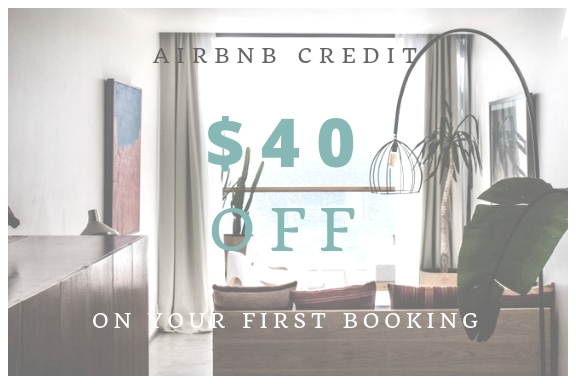 4. Utilize AirBnB Experiences
I LOVE these! They're hosted by locals which supports the local economy rather than going with an international tour group, it feels authentic, there's a huge variety of things to do and see that you wouldn't necessarily think of (shopping around Barcelona with a professional stylist!) and everyone wants a good Airbnb review so they're top-notch experiences.   
5. Plan a Free Walking Tour on Day 1
Most cities offer free walking tours which can be found simply by Googling "free walking tour (insert city)." I highly recommend this because:
It's free (except for the tip you'll want to give at the end)

It's a great way to get a feel for a city

They're usually broad so you can get a better feel of what you want to do in the following days

There are often a solid variety of tours – some cities offer bar crawls, history specific tours, foodie tours, mystery tours, etc.

They're led by locals who are passionate about their city and have insider knowledge

You do the tour with othe tourists which makes it more lively

You're walking – exercise

The guides typically have some great stories you wouldn't learn by reading a guidebook
6. Book a Cooking Course
This is one of my favorite things to do in a new country. Again, it's a local experience and the food you eat at the end is always incredible. The meal I made at my cooking class in Thailand was the best food I ate in my whole 2 weeks of traveling there. Cooking courses are a great way to experience a local culture and speak with a local that doesn't involve waiting in line for a museum.
Navigation & Transportation
7. Booking Flights – Google Flights & Skyscanner
I always check both and compare prices and put price alerts on as soon as I know where I'm going. I love Skyscanner because it's so flexible and easy to use. I recommend checking nearby airports if you're flexible, or even looking into other cities if you're traveling in Europe specifically. You may save hundreds by flying into Madrid and taking a train to smaller towns.
8. Airport to City Transport
Maybe it's just me but I need to have a plan of how I'm getting into a city when I arrive at an airport. Flying makes me tired, foggy and disoriented so I always make a plan ahead of time. It also helps to save money. When it comes to a new city's airport to city transport, these are the questions I ask:
Is there a shuttle bus?

Do they have Uber?

Is there a public transport line? Bus? Train?

Will my Airbnb host offer to pick me up?

Are taxis safe and reliable or am I going to get scammed?

Does my hotel offer airport pickup?
9. Navigating with Google Maps
Create a Google Map HERE to plan your day or road trip. You can create stops and be really strategic so you're not walking around in circles. You can even save them and pass along to friends.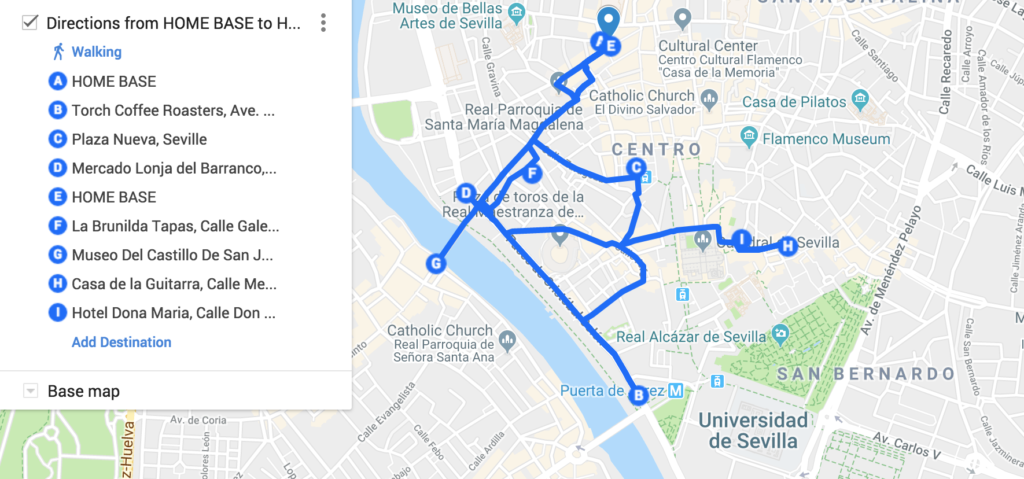 10. Google Maps  & TripAdvisor
I typically use Trip Advisor when planning activities and Google Maps for restaurants because I'm more concerned about proximity when it comes to eating. A simple search like "Italian" in Google Maps will provide you with all the local spots with ratings. I do this ahead of time and star the places that sound good.
11. Google Map Stars
After I've done my research and compile a list of all the attractions I want to visit and restaurants I want to eat at I star it on Google maps. This is handy for when you're walking around town hungry without data. You can see where all your stars are so you know what is good and can navigate easily to whichever star is closest. This also helps with going back and giving suggestions to friends.
TIP: Assign a <3 to where you're staying and label the address – best way to avoid getting lost when you don't have data.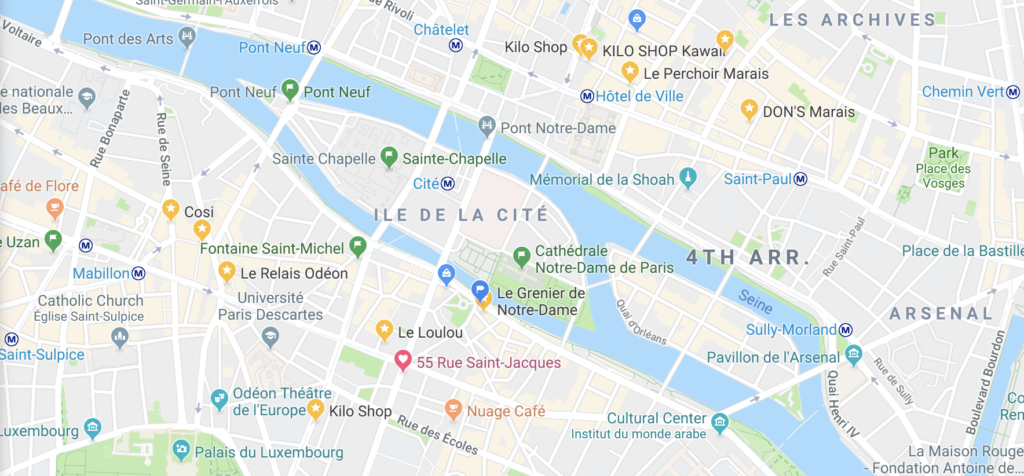 Social Research
12. Pinterest always!
This is actually the first place I go when researching new places. There are so many great blog articles with detailed itineraries and insider tips.
13. Instagram Hashtags & Locations
Instagram hashtags are especially great if you already had an activity or something specific in mind. For example, if I'm going to Paris I'll search the hashtag #veganparis to see where other vegans are eating and make note of it.
14. Facebook Locations
You can see on Facebook which of your friends tagged themselves in the location you're traveling to. Reach out and ask them what they loved about where you're going and if they have any suggestions.
15. Ask for Locals for Advice
Whether you're staying in a hotel or Airbnb, always ask for recommendations. Most times the advice is coming from locals who know what they're talking about and know what visitors like.
General Advice
16. Make Reservations
Consider making reservations for places you can't imagine not visiting. Highly regarded restaurants always seem to book up well in advance, the same goes for popular tourist attractions.
17. Visit the Tourist Information Center
Once you're no the ground I recommend visiting the tourist information center. The people who work here are area experts and can offer great advice on what to do and see and events. They're also a great tool for organizing transport outside the city.
And finally…
18. Plan Extensively
Make a prioritized list of a million things to see and do and places to eat knowing full well that you'll never get to all of them. I suggest doing this because it's better to have too much to do than sit around trying to think of something to do.  
Never waste a moment!